Fayetteville's Kholoud Sawaf Selected for $25,000 Creative Impact Award
Twenty-six artists were selected for Artists 360's fifth cohort and awarded $214,000 in grants. This includes the selection of Kholoud Sawaf for the $25,000 Creative Impact Award as well as five artists chosen to receive Community Activator grants of $15,000 each. In elevating this network of local artists, Artists 360, a program of Mid-America Arts Alliance (M-AAA), seeks to create a place where artists and the creative economy thrive.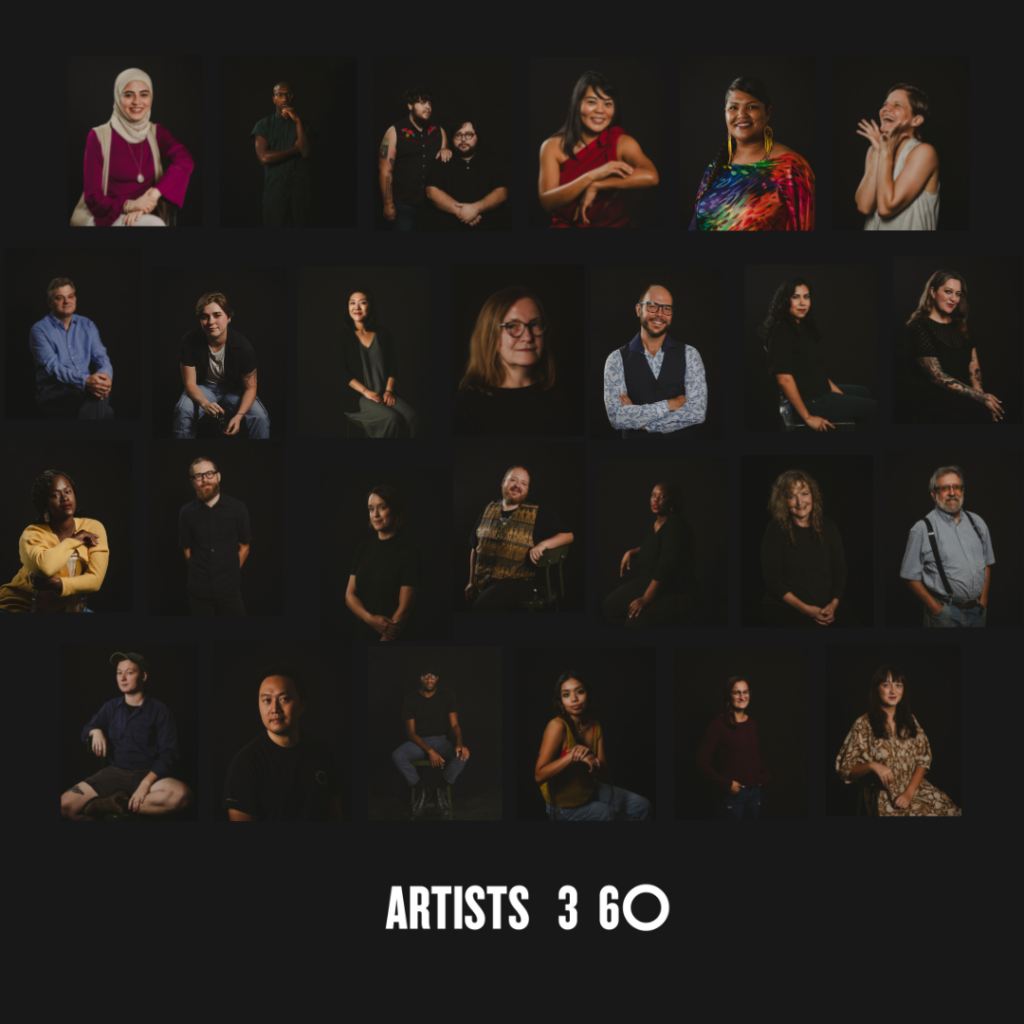 "Artists empower and evolve a community," said M-AAA's President and CEO Todd Stein. "This award brings the total direct investment in 112 artists of Northwest Arkansas to $770,000 over five years. The impact this has and continues to have on the cultural ecosystem of Northwest Arkansas is palpable, creating a space that highlights and uplifts both the role of art and artist in the community."
Artists 360 is awarding $7,500 to 14 practicing artists and $1,500 to six student artists. Sawaf, storyteller and theatre artist, was chosen to receive the Creative Impact Award of $25,000 for her outstanding work in the field. Five artists—Lakisha Bradley, Karen Castleman, Brody Parrish Craig, Tomoko Kashiwagi, and Blake Worthey—were selected to receive Community Activator grants of $15,000 for their work with collaborative projects creating groundbreaking work that generates dialogue and community engagement.
Along with direct grants to selected artists, Artists 360 offers intensive professional development through cohort-based training, one-on-one coaching sessions, peer networking opportunities, retreats for participants and alumni, and the Artists 360 Full Circle Showcase event.
Selected artists include a wide range of disciplines and perspectives. They are:
Creative Impact ($25,000)
This annual award honors an artist recognized both within and outside Northwest Arkansas. This grant award recognizes an exceptional artist that contributes to and nurtures the region's cultural ecosystem.
Kholoud Sawaf (Fayetteville) is a theatre artist and cultural investigator from Damascus, Syria. She has worked in theatre and television in Syria, Lebanon, the United Arab Emirates, and the United States. Inspired by COVID, Kholoud co-created Curbside Theatre to investigate theatre as a service. Supported by the Doris Duke Foundation, she created and directed 10,000 Balconies, an original play inspired by Romeo and Juliet and set in Damascus, at TheatreSquared. Kholoud presently leads a collaboration between Crystal Bridges Museum of American Art and Arkansas Coalition of Marshallese. Kholoud's work has appeared in New York; Connecticut; Oregon; Massachusetts; Washington, DC; Nairobi, Kenya; and Dubai, UAE.
Community Activator Grants ($15,000)
Five annual grants of $15,000 are awarded to individual artists or collaborative partnerships to fund projects that provide opportunities to other artists, creating an active community of peer support in the Northwest Arkansas region.
Lakisha Bradley (Fayetteville) – Bradley's project, The Hope Station, will transform a bus stop into safe space in collaboration with Ozark Regional Transit and local art partners.
Karen Castleman (Rogers) – Castleman's project, Dance Chance NWA Season 2, gives emerging and established choreographers in Northwest Arkansas a platform to present new works.
Brody Parrish Craig (Fayetteville) – Craig's project, Trans Joy IS: An Arkansas Community Zine, is produced in partnership with Maxmiliano Oliver Calabotta and centers the Arkansas TGNC community to create a zine publication responding to the prompt "Trans Joy IS".
Tomoko Kashiwagi (Fayetteville) – Kashiwagi's project, Chamber Music Society of Northwest Arkansas, brings people of all ages and musical backgrounds together to experience chamber music.
Blake Worthey (Bentonville) – Worthey's project, "The Porch in Springdale," is a community-based gathering around food and art.
Project Grants ($7500)
These grants, paired with professional development, fund projects by artists throughout Northwest Arkansas.
David Andree (Fayetteville), Na'Tosha De'Von (Fayetteville), Christian Gerard (Fort Smith), Er-Gene Kahng (Fayetteville), Elby Mann (Eureka Springs), Briseida Ochoa (Bentonville), Stephanie Payton (Hackett), Mary Sue Price (Fayetteville), Spade Robinson (Bentonville), Sabine Schmidt (Fayetteville), Anthony Sonenberg (Fayetteville), John Walch (Fayetteville), Katie Waugh (Fort Smith), and Rana Young (Fayetteville).
Student Grants ($1500)
Trent Bozeman (Fayetteville), Lily Buday (Fayetteville), Sky Maggiore (Fayetteville), Sophia Ordaz (Fayetteville), Chung Park (Fayetteville) and Lainee Stiver (Siloam Springs).
Artists 360 is made possible with support from Steuart Walton and Tom Walton through the Walton Family Foundation.